Raise your voice, Assert for Rights
AS per the data from National Crime Records Bureau (NCRB) more than 2000 Witchcraft-motivated murders reported across 17 states from 2001-2014, most of the victims being women.
Rajasthan too suffers from this problem in acute manner.  Even after the Rajasthan Prevention of Witch Hunting Act was enacted in the year 2015-16, a total of 125 incidents in the state have been reported of witch hunting in the state during the year 2015-2018 from various districts of Rajasthan. Bhilwara, Dungarpur and Rajsamand are the districts which reports maximum number of cases, being the tribal and illiterate belt where following for such belief is higher.
Rajsamand has reported 7 cases some of which have been quite serious. Currently in Rajasthan about 73 cases are in court where survivors are fighting for compensation, rehabilitation and relief.
Recognizing this problem along with lack of awareness in rural women about their rights and the prevailing general environment of violence against women in the tribal areas of Rajsamand, RJVS, RMM and Action Aid got together and initiated a programme in SC, ST, OBC and minority community in 5 villages of Rajsamand district. Four villages named Danga Ka Vas, Dhorna, Menadar ka bheelwada, Morcha were selected from Kelwara district a tribal dominated block and 1 village Kelwa (minority) from Rajsamand block. The purpose was to create awareness in women about their rights so that they can assert whenever needed and raise voice (HUNKAAR) against violence in general and witch hunting in particular.
This was a short term project towards awareness creation and capacity building of community towards violence and which hunting limited to target villages. However while implementing the project it also came to our notice that implementing agencies they were not aware about these laws and their contents. In order to ensure smooth implementation, training was provided to all district police station in charges about the law and its applicability. Subsequent to this the police also came into action and registered FIRs against the perpetrators of harassment and violence in accordance with the law.
The key objectives of the project –
Create an deterrent environment against witch hunting and violence through patriarchal mindset.
Address the exploitative practices leading to witchcraft reported in the area and a community based rehabilitation of the survivor to be ensured with dignity.
Initiate the policy advocacy action at state level favoring the subaltern groups/ women for their survival and dignity.
Mobilize different stakeholders, like minded NGOs, implementing agencies, women leader towards aligning the likeminded groups working on the women issues and work to evolve the state level feminist group/ leaders to facilitate and raise the voice on the women and girls rights.
Collaborate with education department through state government to include harmful practices in curriculum related to girls and women including witch hunting.
Support in establishing a surveillance network with responsibility at district level.
Follow up with state Administration till the justice is delivered to the victim i.e compensation is given, rehabilitation is completed and the victim is brought back in social mainstream. Take up with Administration through reviews every six month for district.
Capacity building of Police and judiciary towards addressing Witch hunting cases.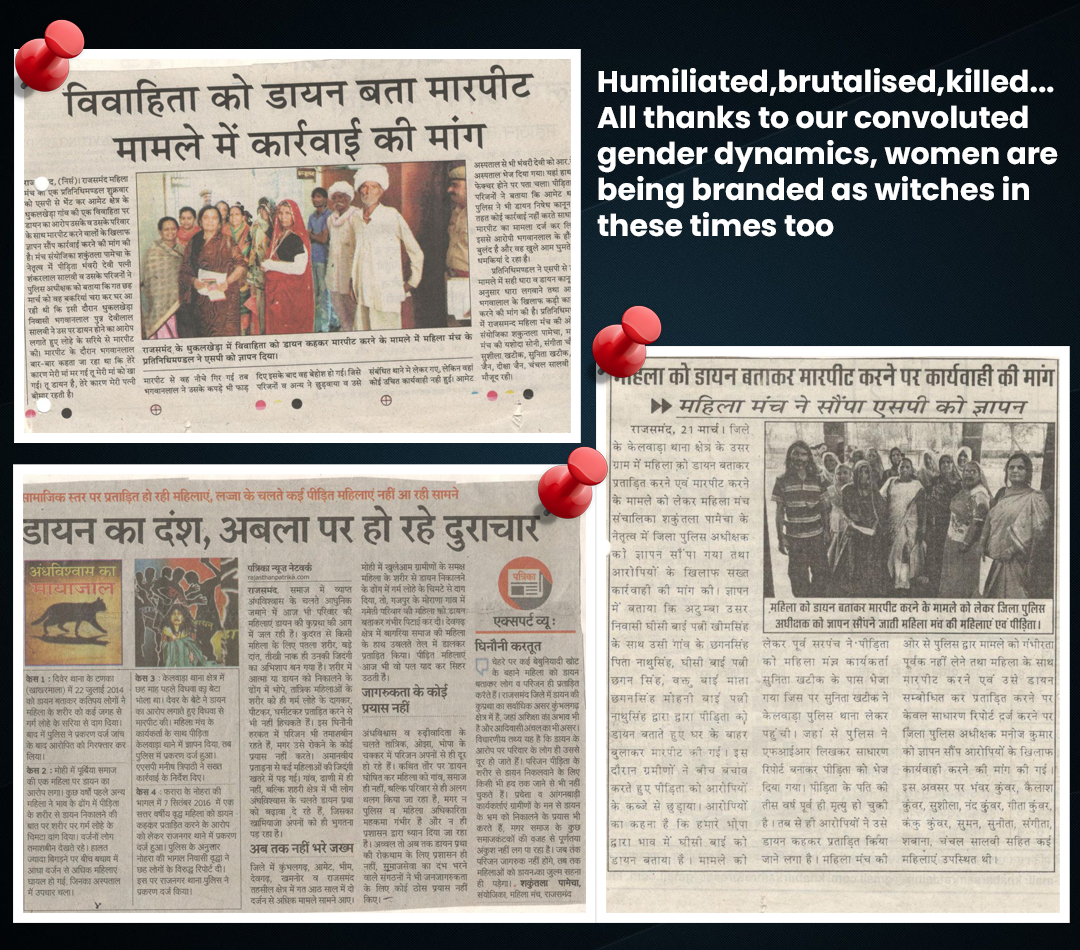 Achievements so far..
Collectives of girls and women are formed.
Women are becoming aware about their rights.
Example: Group of the women of Dhorna village went to panchayat and asked to the Sarpanchs to include their names in food security.   They followed up about this and many have been successful.
Due to gender sensitization training program, understanding about Social discrimination has increased among the girls.
Example: Girls have begun discuss with their parents for higher studies similar to their brothers.
Due to the workshop with the Police department of Rajsamand dist. they have become aware and sensitive of Dayan Law.
Example: Due to increased awareness when the woman in Amet village lodged a complaint against those who said witch to her, the police registered the FIR according to the Rajsathan Dayan Pratadna niwaran Adhiniyam 2015-2016.
1158 families benefited from various government schemes.
Example: Total 876 villagers of SC and ST community got benefit through govt. entitlements (Jan'18 to Oct'18).
Total 3240 women and girls participated in regular meetings of the village (Aug'17 to Oct'18) they got exposure on key social issues from this meeting.
15 Drop out girls from the last 2-3 years have been made aware about education and took admission in 8th or 10th class by filling the form of Rajasthan State Open School.
More than 60 women, girls have been identified for the leadership building process and training on issues like: capacity building, gender sensitization have been done for them.
Conducted workshops with public representatives, caste leaders, Sarpanchs, villagers and media to sensitize them on Rajasthan Prevention of Witch Hunting Act, 2015.
Gheesi Bhai (witch branding victim), living in Adumba, was beaten up by his family by calling her a witch and the FIR was initially not registered. However with the help of the worker of the institute, the FIR was later registered and the name was added into the ration scheme under food security.
Helped 3 more witch branding victims in the procedure of registering FIR and getting compensation from government.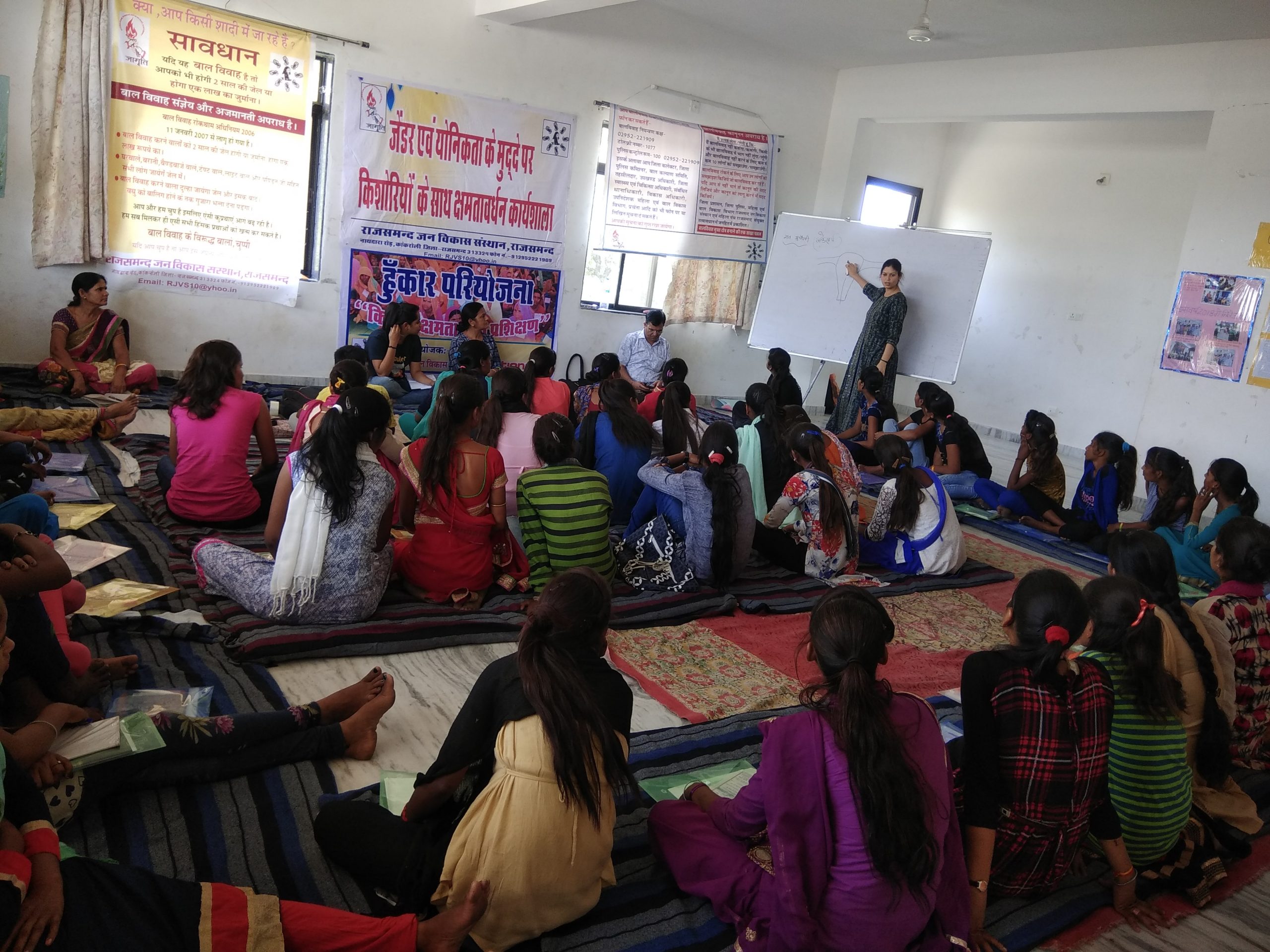 The project though ended on 31st December, 2019, however RJVS / RMM team tracks the cases of witch hunting in the district and provides support wherever necessary. It is a matter of satisfaction that district police is taking up appropriate action in such cases after conducting of awareness sessions for them.
Champa Bai (45) is a tribal woman from Dhorna village in Kumbhalgarh. When Chambha Bai went for the funeral function of her nephew, her brother-in-laws accused that their son died because of Chambha Bai and then started assaulting her. Through Hunkar project she was aware of the Witch Hunting Prohibition Act, Chambha Bai herself said that she will lodge an FIR against them.
The story of Gheesi Bai…..


Gheesi Bai is a single woman. It has been many years since her husband died. She lives with her son who is   mentally challenged. He was married and has two young daughters.
Gheesi Bai lives in the USAR village of Adumba Panchayat in the Kelwara block. She has about 5 Acre of land which is eyed by her cousin is on. Whenever those people come to her home, they keep harassing Ghisi Bai by using abusing words. Always Gheesi Bai continues to work in her field or house, crying silently, upset by their taunts.
Ghisi Bai is mainly harassed by her Aunt-in-law, her husband, her son Chagan Singh and his wife Mohini Bai, etc. calling her a witch. If there was an accident, death, or someone who fell ill in the family, then they would blame her for those incidents and harass her by beating and taunting. On March 16, 2018, her brother-in-law and wife by calling Gheesi Bai as a witch and pulled her out of the house by grabbing hair. Seeing Ghisi Bai was brutally beaten by her family members, the people from the surroundings came there and saved her. Then Ghisi Bai's brother-in-law and wife came among all the villagers and proclaimed that she is a witch, because of her only my children remain sick. If she is not a witch, then she should come with us to the temple of Goddess in Dulawat and lay her hands on the ember. Then only will know whether she is a witch or not. Having said this, he told Gheesi Bai to come with them to the temple. Poor Gheesi Bai was humiliated in front of everyone and started crying in fear hopelessly.
After a few minutes, everyone left from there when the former Sarpanch approached her and gave information about the Rajsamand Mahila Manch (Women's Forum) and said that only those people can save you from this problem. And he added to his words that one of the Rajsamand Mahila Manch workers is lives in Samicha village, you go to her by hearing this, and Gheesi Bai got a little comfort, and with her son from her house by kept asking around 6 pm she reached Mahila Manch worker Sunita Khatik's house. On reaching the Mahila Manch worker's house, it became dark. After going there, she told the whole agony to Sunita. After listening to which Sunita said that you do not be afraid, our Sangathan will help you. Sunita gave whole information about Gheesi Bai in office the next day, according to which she was advised to lodge an FIR in the police station.
Sunita went to the police station with Gheesi Bai, The police officials by not paying much attention, lodged a simple report and sent them back. But Gheesi Bai was so scared that she told Sunita that I will not go home. Then Sunita kept Gheesi Bai at her house on the day. On the second day, the Mahila Manch worker met Gheesi Bai and she was informed about the memorandum. After which the Superintendent of Police, after collecting all information about the incident of Gheesi Bai, immediately called the Kelwara police station and asked to register the FIR of Gheesi Bai as soon as possible. FIR was registered. After that, the representatives of the Mahila Manch went to the village and met the accused and collected all information about Gheesi Bai, Chagan Singh, and his wife could not be found, but their parents were there. Those people said that Gheesi Bai is a witch due to her only our child remains ill. If it is not the reason, then why she is not ready to come to the temple? The representatives of Mahila Manch then informed them of the Rajasthan Prevention of Witch Hunting Act 2015 and advised them to call Gheesi Bai no more a witch.
After the FIR was lodged, the police arrested Chagan Singh and his wife and brought them to the police station and both husband and wife apologized and said that this will not happen again and requested a compromise. But Ghisi Bai refused to compromise.
Now Gheesi Bai is confident that the Mahila Manch Sangathan is with her, Sangathan will help her if there is any problem. Immediately after this incident, the team of Mahila Manch and Hunkar project met the District Collector regarding the incident of Gheesi Bai and handed over all the information about the incident to the District Magistrate and requested to help the victim under the Rajasthan Prevention of Witch Hunting Act 2015. Taking immediate action, the District Magistrate talked to Kelwara SDM by phone to add Gheesi Bai to the BPL and provide ration and ordered an early cradle. With immediate effect, Gheesi Bai is currently getting ration under BPL. The case of Gheesi Bai is currently under process in the court. Due to repeated change of administration officials, the victim is not getting any more help which she wants to get but the efforts are on.